In today's world with the developing technology, people want to reach services that meet their needs easily and quickly. Users need to be guided correctly, especially in terms of personal care services, which is one of the basic needs for everyone. Although social media platforms have a lot of content on this subject, it is insufficient to provide users with accurate information within the scope of health, beauty, and personal care.
Designing a mobile application that helps people find accurate information and inspiration about their health and personal care needs. This application will also help them find reliable local stores to make an appointment for personal care services.
Figma | Illustrator | Photoshop | Zoom | Loop11 | Miro |
UX/UI Designer: In this project, I played role in all processes of user research. In the inspiration phase I conducted user interviews and did secondary research to gather qualitative and quantitive data. I analyzed these data by creating user persona, empty map, as-is scenario, customer journey map. Then with my design team I create sketches and low-fi wireframes for the solutions that we agreed on. During the high-fidelity wireframe design phase, I took a role in IOS mobile application design.
HUMAN-CENTERED DESIGN PROCES

S
We interviewed 5 participants and collected insights. The participants' average age was 28; out of 5 participants,  
Here are the top findings from these feedbacks:
1) All participants use at least one mobile 

application

 to explore places to go or make a reservation.
2) 4/5 of the participants, read customer reviews, 

check service prices

 before they go to a place.​​​​​​​

3) 3/5 of the participants like sharing their experience when 

they

 get a service from a beauty store or haircut salon on social media platforms with photos to get other people 

comments.
4) 3/5 of the participants complained that sometimes it is hard to find a  convenient time for going to a beauty salon to avoid long waiting times. 
5) 4/5 of the participants stated that most of local beauty salon websites don't allow them to book an appointment without calling or emailing them.
1) 3/5 of the participants want to get advice from specialists for their skins to get the right services and operations.
2) 3/5 of the participants, follow 

influencers

, beauty product brands on social media 

platform to get inspiration.
3) 5/5 of the participants would like to know the detail informations about the service, before book an appointment or go to the store.
4) 5/5 of the participants would like to be sure about the salon that high level covid precautions have been taken.
5) 5/5 of the participants would to take a personal care and beauty service from a 

place where

 their expertise certificates have been approved by the competent authorities.​​​​​​​ 
Once I sketched the possible solutions on paper and discuss on them with my team, we decided on the final concept, then I moved to the next step and created low-fidelity wireframes.​​​​​​​
HIGH-FIDELITY WIREFRAMES (In progress)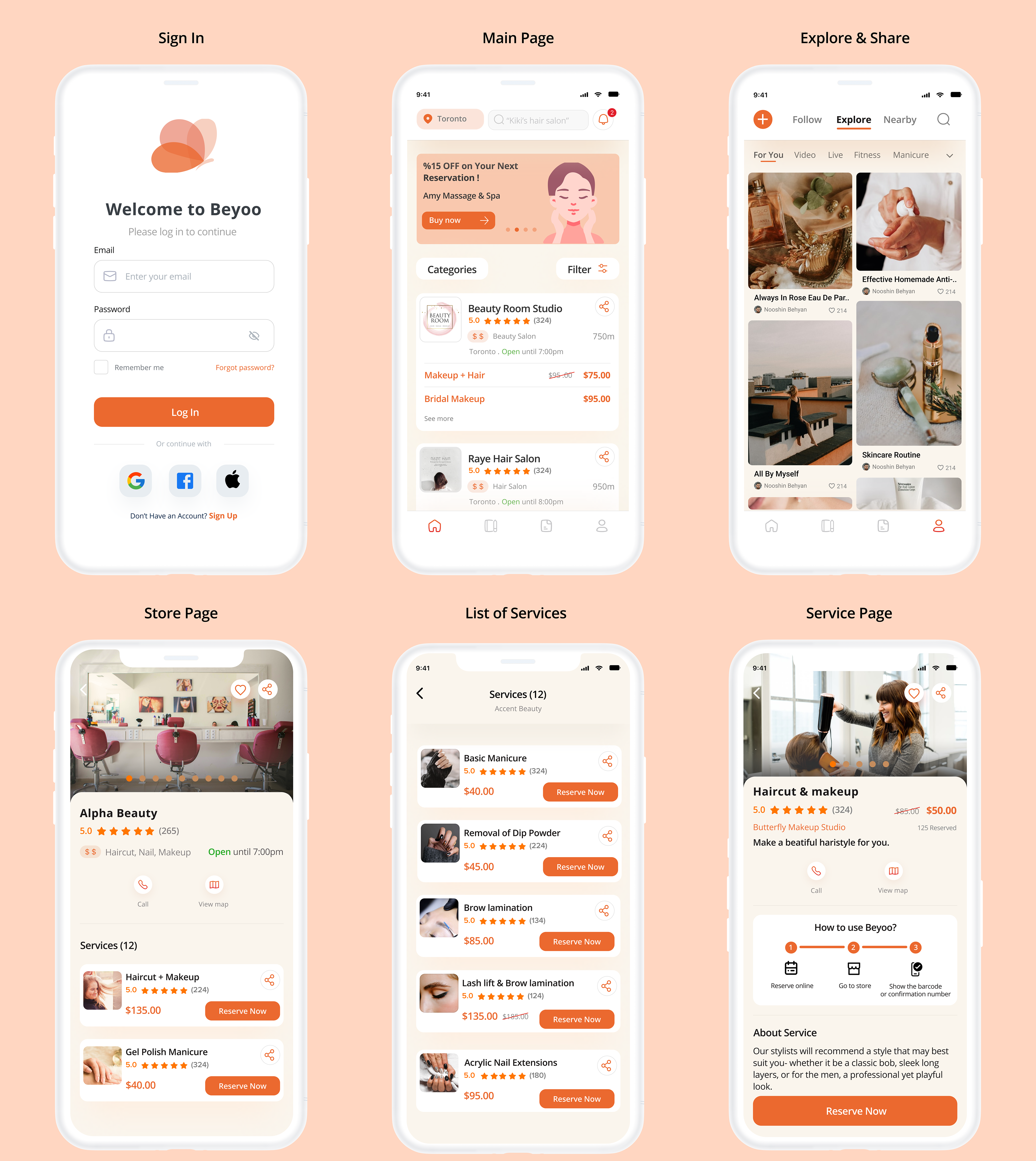 - For customer-facing products, it is very important to understand customers' habits while they use this kind of platform. Every user may have different expectations, needs, goals, and priorities.
- Before the high fidelity phase, we need to think about every possible way that users may follow. It is easy to make changes on user flows and low fidelity wireframes but during the high fidelity process, it may take a long time.
- We should use a project management tool that all team members can update each other when we make any changes to the design. 
- It is important to discuss about the feasibility of potential ideas with developer engineers. 
- For the visual design, it is important to use dynamic colors and fonts that can reflect positivity to the user.
- While users are interacting with the product, they always should have the flexibility of moving between pages.
- 

Get user feedbacks and improve the design and interactions
- Conduct more user and design research to uncover user needs and problems and build solutions
- Generate new feature ideas to improve the product and increase usability
- Add e-commerce feature to let business sell their beauty and personal care products to their customers
- Add chat function to improve the communication between business and customer, this will help them solve 

potential small problems.
- Improve social media feature to make the platform more attractive for users.